Protocol Acceleration for High Capacity and Performance in 3G and 4G Networks, IoT and M2M
GTP (GPRS Tunnelling Protocol) is a UDP/IP based tunnelling protocol used within the core radio control network of 2.5G (UMTS), 3G (GPRS) and 4G (LTE) cellular networks. GTP consists of two separate protocols: GTP-U which is the data plane protocol which tunnels data packets within the core network and GTP-C which is the control plane protocol, responsible for setup and teardown of GTP-U tunnels.
As network capacity increases so does the need for security and reliability. Adax GTP software, and its sister product, SCTP/T, are designed to meet the exploding capacity demands of both 3G and 4G networks, especially from IoT and M2M. This impacts both the GTP-C and GTP-U and the encapsulation and de-encapsulation of packets, PDP context requests and responses, and packet header insertion and enhancement.
Accelerating GTP tunnels and offloading GTP data traffic is a critical requirement in the performance of 3G and 4G networks, especially for traffic management and load balancing in the core network. Removing bottlenecks in the network increases performance and supporting Differentiated Services improves Quality of Experience.
User Plane and Control Plane Protocols in 4G Networks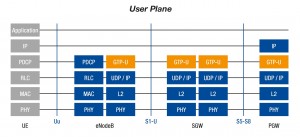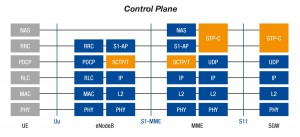 Adax GTP Protocol Software Features
Interworking between IP and GTP-U (GTP Tunnel termination)
Termination and Relay per PDP context for Mobile Data Offload (GTP Bypass)
Interworking between two separate GTP tunnels (GTP Relay)
GTP-U Echo Requests/Responses can be terminated to the host, relayed to another GTP tunnel, processed automatically, or discarded
Supports over 250,000 GTP PDP contexts per module
Full QoS support, including DHCP copying and/or remarking; token bucket policing for ingress and egress packets
Supports a loosely coupled (message based RPC) interface to the GTP-U data plane, allowing the dataplane to be run on a separate machine from the GTP-C control plane
IPsec to GTP interworking
Compliant to 3GPP release 12
Supports Adax Pkt2 boards for protocol acceleration to meet high-capacity requirements
---
---
Application Areas
• Core Network Performance Acceleration:
– 4G PGW, SGW and MME enhancement
– 3G SGSN and GGSN enhancement
– Load Balancing, Backhaul & Aggregation
– QoS and Traffic Management
– Monitoring, Test and Measurement
• M2M and IoT:
– Car telematics incl. the 'connected car'
– Industrial automation, monitoring and control
– Intelligent transport systems
– Smart homes and buildings
– Healthcare
– Retail
– Utilities