Secure Data & Control Plane Application and Packet Processing for LTE and All-IP Networks
Utilizing the embedded services of both the industry leading Intel Xeon processor and Cavium Octeon II family of multicore processors and an on-board Marvell switch, the Adax PacketRunner2i (APR2i) is specifically designed for networking, security, packet filtering and Deep Packet Inspection (DPI) providing a high performance solution for demanding telecom applications. The Intel processor hosts the application and the Cavium OCTEON II processors provide front-end processing of Layer 2 protocols and hardware acceleration of SCTP, M2PA, DPI, and IPsec with efficient separation and processing of both control and data plane flows. Specific Cavium cores are dedicated entirely to security applications, offloading the host processor from this compute intensive work.
APR2i Features
Intelligent, High Performance, 4-Bay Communication Appliance blade or ATCA carrier blade, combining the power of an Intel processor with support for multiple Cavium processor-based AMC boards
Intel Xeon E3-1268-Lv3, embedded processor, 4 cores, 8 threads, 2.5GHz normal, 3.3GHz turbo
Combine with Adax Cavium OCTEON II 6645 based Pkt2-AMCs
Integrated on-board 40GbE Marvell 98CX8124 Ethernet switch delivers:
– 16 x 1Gbps or 4 x 10Gbps interfaces to the network
– 2 x 10GbE or 2 x 40GbE ports to Fabric Domain
Option of Marvell 98CX8129 for 2 x 10GbE to each AMC
4, 8, 16 and 32GB DDR3 RAM options
Rear Transition Module (RTM) with 1GbE, 10GbE and 40GbE port options and mSATA up to 1024GB
Additional on-board mSATA SSD option up to 1024GB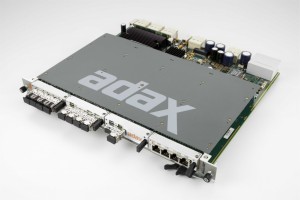 ---
Pkt2-PCIe & Pkt2-AMC datasheet 
Adax Communications Appliance datasheet
---
Integrated Solution
The integrated solution of the APR2i and Pkt2-AMCs in a complete 1U or 2U system delivers the perfect Communications Appliance. Multiple 10G connectivity is built in as standard with the on-board switch and the optional 40G version requires no extra switch blade or module. Remote monitoring and management is included using a simplified shelf manager for temperature and fan control. Running standard Linux makes for ease of portability between applications and platforms.