The Pkt2-PCIe and Pkt2-AMC boards provide front-end intelligent processing for DPI, IPsec and GTP acceleration, delivering a high-performance, secure, carrier-grade, packet processing for LTE, 3G and IMS networks.
Features
High Performance hardware acceleration with Cavium OCTEON II 6645 Processor with 10 cores at 1.1 GHz
AMC and PCIe board formats, ideal for LTE Core Network nodes, Security Gateways, Small Cell and eNodeB Gateways, Policy Servers and Data Offload devices
8GB DDR3 Memory
High Performance Application Acceleration including:

Packet Processing and Deep Packet Inspection (DPI)
QoS Queuing and scheduling with very low latency for real-time traffic
IPsec, SSL, SRTP, WLAN and 3G/UMB/LTE security including DES, 3DES, AES-GCM, AES up to 256, SHA1, SHA-2 up to SHA-512, RSA up to 8192, DH, and KASUMI
Carrier Ethernet, MPLS-TP, LDP, RSVP-TE, PBB-TE
GTP-U, IP and GTP-U interworking, GTP-C termination
IP Tunneling, Switching, Routing & Backhaul
  Applications
Policy Control/Enforcement (PCRF/PCEF)
Charging and Billing
M2M and IoT
Cyber Security
HTTP Filtering
Data Optimisation and Data Offload
Load Balancing, Backhaul & Aggregation
QoS and Traffic Management
SMS, Roaming, Ring Tones
Monitoring, Test and Measurement
Control and User plane Interworking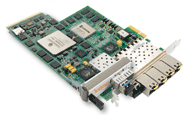 ---
Pkt2-PCIe & Pkt2-AMC datasheet
---
 High-Capacity GTP-U Acceleration
Dedicating the Adax Pkt2 cards or cores to GTP-U user plane traffic delivers unrivalled performance critical to today's mobile broadband traffic requirements. Supporting over 250,000 GTP PDP context per application, offloading the GTP-U data traffic to the Adax cards greatly increases traffic capacity by accelerating the data paths and freeing up the host system processor. Removing these bottlenecks in network performance improves Quality of Experience, supporting differential services and associated billing for improved carrier revenues.
Accelerating GTP tunnels also remains a critical requirement in legacy networks for extending the life of 3G RNCs, SGSNs and GGSNs and providing the platform for M2M and IoT applications.
---