SS7 to IP Signaling Gateway for Legacy Network Interworking
Service Providers are making the transition to 4G but legacy connectivity for voice, SMS and IN applications still remains an absolute requirement. SS7 TDM interfaces must be maintained to meet the demand to interconnect different networks and multi-protocol solutions are required to connect divergent circuit and packet switching architectures. SS7 isn't retrograde – it's traditional. It's still the most robust, high performance, and reliable signaling solution out there and it's needed today more than ever.
The Adax Gateway (AdaxGW) meets any signaling interworking requirement delivering the scalability, flexibility, throughput, and performance that enables Service Providers to manage the convergence and growth of their networks whilst maintaining legacy connections and infrastructure. It is also the ideal Signaling Gateway replacement for the End of Life Cisco ITP.
Adax Gateway Features and Benefits
Maintains SS7 TDM connectivity, IP-enables any legacy node and interworks with cost effective IP links, avoiding expensive STP replacement
Ideal replacement for Cisco ITP
Interfaces and Protocols supported for all legacy interworking requirements:
TDM Connectivity:
– T1/E1/J1 LSLs, Annex A HSLs, ATM T1/E1, OC3, OC12, GbE
Protocol Interworking and Conversion:
– ANSI, ITU, ETSI, UK, Chinese and Japanese national variants
– SIGTRAN M2UA, M2PA, M3UA and SUA
– SS7 GTT, SCCP, MTP3/b, MTP2/Annex A and ATM
Signaling Interworking:
– SS7/IP, IP/IP or ATM-IP
Unparalleled scalability and flexibility to protect investment in both Legacy and IP networks:
− Delivers the link density and throughput to enable Service Providers to manage the convergence and growth of their networks
− Enables Service Providers to maximize revenues and satisfy consumer demands for new services whilst maintaining both traditional TDM signaling and new IP networks
High-Availability options with no loss of service during switchover
One management interface for all configurations that are reconfigurable & re-deployable
Pre-integrated RMS or ATCA boxed solution
Software can be integrated in to user's RMS platform or virtualized Linux environment
Telcordia certified at Release 3.4 and designed to meet NEBS-3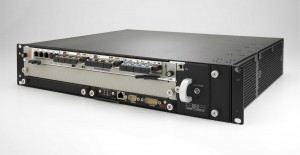 ---
Adax Signaling Gateway datasheet
---
Delivering SS7 TDM connectivity, protocol conversion, and SIGTRAN interworking enables any IP node, such as a firewall or charging system, to seamlessly interwork with any legacy node, nationally or internationally.