Adax SS7 controller, the HDC3, excels at traditional TDM SS7, high-speed ATM SS7 and I-TDM.  The HDC3 provides a high-density, high performance solution for signaling and interworking applications and offers unparalleled reliability and excellent price performance ratios. The HDC3 allows customers to satisfy a wide range of requirements with common core architecture, a single software driver, and a common API. This reduces development time and provides a fast time to market and rapid return on investment.  With one of the highest densities on the market today and a low-power on-board processor that performs many thousands of transactions per second, with minimal load on the host, the HDC maximises the performance of the applications and reduces system costs without compromising reliability by delivering:
8 software selectable trunks of full E1, T1, or J1 per card
Up to 248 LSL MTP2 links per card with high line utilization
Up to 8 HSL (Q.703 Annex A and ATM AAL5) links per card
Up to 2 Ethernet ports per PCI, PCIe and PCIe ExpressModule card
AMC, PMC, PCI and PCIe (Full height, Low-Profile and ExpressModule) board formats with common MTP2 driver and API
On-board processor for local MTP2 protocol execution
Support for up to 64 VCC's of broadband SS7 ATM AAL5
Support for up to 128 channels of Frame Relay or a combination of 248 channels of HDLC, X.25, LAPB/D/F/V5 protocols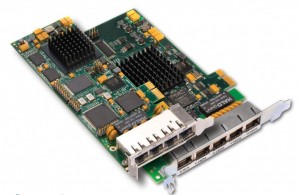 ---
---
For STM-1 OC3 optical connectivity see our ATM5 controller.
---